LVG Selection Headache
LVG Selection Headache
Now that the dust has settled on the summer transfer window, the activity of one Premier League club remains in the spotlight. After a winless start to the campaign – including draws at Sunderland and Burnley and a shock home defeat to Swansea City – it was inevitable that Manchester United would move Heaven and Earth to turn their season around, but the sheer size of their outlay in the transfer window will surely have surpassed the expectations of even their most optimistic of fans.
Now, with some of the finest talent in world football at his disposal, the key question for Old Trafford manager Louis Van Gaal is how can he possibly fit everyone in…..and has he gone too far in his recruitment?
Of the record £835m invested by Premier League clubs in the transfer window, United spent a cool £150.1m, which includes the £59.7m spent on Argentinian winger Ángel di Maríathat broke the British Transfer record. The club also raided Southampton for £27m left-back Luke Shaw and spent £28m on Ander Herrera from Athletic Bilbao, but potentially their most eye-catching – and troublesome – bit of business was the deadline-day loan signing of Radamel Falcao from AS Monaco.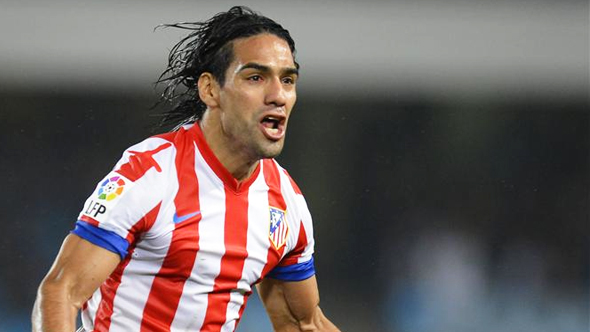 Falcao's arrival – at a reported cost of £6m plus
somewhere up to £346k a week
in wages – will leave Van Gaal with the difficult task or trying to squeeze the Colombian into a formation alongside both Wayne Rooney and Robin Van Persie. Having named Rooney as his captain earlier in the summer, Van Gaal has nailed his colour's to the Englishman's mast, although he clearly has loyalties to Van Persie too, having made the former Arsenal man his Holland captain during the latter stages of his time in charge. It would be extremely difficult on a personal level for Van Gaal to drop either Rooney or Van Persie and their popularity in the stands and their standing in the dressing room also means that relegating either man to the bench could be a potentially risky move.
Somewhat fortunately for Van Gaal, there have been question marks over Van Persie's fitness in recent weeks and rumours are circulating that he will require surgery to resolve an ongoing knee issue. Whilst Van Persie has dismissed questions over his fitness and has publicly stated that he is looking forward to working with Falcao, it will certainly be at the back of Van Gaal's mind that his fellow country man rarely completes a full season without an injury layoff. He has only ever played more than 28 Premier League games in a season on two occasions since joining Arsenal in 2004, although it seems highly unlikely that all three of Van Persie, Rooney and Falcao will remain fit all season, so Van Gaal may avoid some difficult conversations at some stages of the season at least.
In addition to the established United names, Louis Van Gaal's recruitment policy also risks alienating the likes of Juan Mata, whose £37m price tag when arriving from Chelsea last year looked particularly steep, but now seems to be in keeping with the other new arrivals. When >David Moyes signed the Spaniard in January many questioned how he could fit into the Manchester United team alongside Rooney and Van Persie and, in truth, he struggled to find his best form as he searched for space. With arrival of Di María in particular, Mata looks destined for a long season playing a bit part in the first team. Similarly, David Moyes' first headline signing as United boss, Marouane Fellaini – who signed for £27.5m from Everton last year – now looks to have fallen completely out of favour and is highly unlikely to feature at all this season.
With over £60m invested in Mata and Fellaini and the two players now struggling for game time, it is easy to see why Moyes' transfer policy has been roundly criticised since his departure from the club. Louis Van Gaal, however, is walking an even thinner tightrope. When results went against Moyes, he panic-bought and paid 'over the odds' after missing out on several targets. Van Gaal it seems, has missed out on none of his targets and has arguably still been over-charged. Whilst Moyes could legitimately claim that he was building a side for the future and that he would need time to return success to the club, Van Gaal can make no such claims. Having invested so heavily, failure to compete for the Premier League title this season would be a huge under-achievement…failure to make the top four again would be a disaster.
Another difficulty for Van Gaal is the sheer lack of games that United will have in which to play their star names. Having been humbled by League One's MK Dons in the Capital One Cup and having failed to qualify for Champions League or Europa League football this term, the club have only 35 Premier League games and a maximum of 10 FA Cup matches (if they are taken to a replay in each round and reach the final) remaining. To put this into context, despite United's poor form last season, their goalkeeper David de Gea still made 52 appearances for the first team. Should he play every game this season for United, he can only reach 50 appearances (this is including the four games the Spaniard already has to his name). There are simply not enough matches remaining in United's season for Van Gaal to justify shuffling his team selection.
While Manchester United have made a number of high profile signings, they have also let a number of high profile established Premier League stars leave. Fan favourites such as Nemanja Vidic, Rio Ferdinand and Patrice Evra have all left Old Trafford but the club has been able to recoup very little of the money it has laid out in transfer fees. With many of the departed players leaving on loan or on free transfers, the club's net spend has been huge this summer. Danny Welbeck's £16m transfer to Arsenal is the only clear sign of any financial recoup for United.
Not only have United risked their financial position by buying high and selling cheap, they have also committed themselves to a number of huge salary packages over the coming seasons. In addition to Falcao's sky-high wage packet, Ángel Di María is reportedly earning £280k a week and teenager Luke Shaw is on £100k+, not to mention the near £300k package that Wayne Rooney agreed last year. With no Champions League income stream this season, Van Gaal and the United board are risking massive losses in the short term to try and return to the top of the European game.
One of the difficulties that David Moyes undoubtedly faced during his short time as Manchester United manager was the need to cope with huge egos in the dressing room. Moyes came to the club having won no major trophies during his decade at Everton and was forced to manage players who had won everything in the game. Having played under the iron rule of Sir Alex Ferguson – the most successful manager in the history of the British game – the likes of Rio Ferdinand and Ryan Giggs were bound to be wary of Moyes untried techniques. In truth it seemed that few of the players bought in to Moyes' vision; United may have moved many of their established stars on but there is still no reason to expect those who remain to fall into line immediately with Van Gaal's views.
Louis Van Gaal faces a different problem to David Moyes. Van Gaal has a track-record of success, having won top division titles in Holland (while managing Ajax), in Spain (with Barcelona) and in Germany (with Bayern Munich). Van Gaal can also boast Champions League success (with Ajax) and recently guided the Netherlands to third place at the 2014 World Cup in Brazil. All of this will give him kudos amongst the players but he is not in the same position as Moyes was.
Van Gaal has not taken over a unified, disciplined and experienced squad that needs a guiding hand and a steady push in the right direction, he has instead inherited a fractured squad at a low ebb and still reeling from last season's seventh-placed finish in the Premier League. The squad inherited by Van Gaal is devoid of leaders and has lost some of its most experienced and talismanic members. In response, the Dutchman has opted to replace these players with big money and big names. If Moyes struggled with individuals and egos in the dressing room then this is nothing compared to the kind of problems that Van Gaal could be letting himself in for. By throwing together a group of individuals who have been used to getting their own way and who believe that their wage packets and price tags should afford them influence in the team, Van Gaal is risking creating a rift in his squad. It could ultimately boil down to David Moyes' failures on one side and Louis Van Gaal's Galacticos on the other.
Van Gaal's transfer policy has drawn criticism from a number of quarters this week, not least Sir Alex Ferguson's former number two Mike Phelan. Phelan, who was Ferguson's assistant between 2008 and 2013 – during which time United won the Premier League on three occasions – claimed that the club's identity was 'broken' after the decision was made to allow Danny Welbeck to leave. During his time with the club United had a reputation for making one or two big signings every year to strengthen their squad and add quality where they were lacking. With the obvious exception of Robin Van Persie, signed from Arsenal in 2012, it was rare for the club to sign an established star and risk destabilising the dressing room. Everything that Van Gaal has done in the transfer market has gone against this principle.
Throughout Sir Alex Ferguson's time as manager at Old Trafford, the club built its success around home grown youngsters. Having put his faith in the 'class of 92' and been rewarded a decade of success, Ferguson's attitude was that if a player was good enough then they were old enough, and that they would be given the opportunity to develop in the first team. Now that the club have let Tom Cleverley join Aston Villa on loan and Danny Welbeck depart for Arsenal, the only youth team product with a realistic chance of being given a run in the first team is Tyler Blackett, although he will face a battle with Phil Jones to partner Marcos Rojo in central defence. Jonny Evans looks unlikely to get much game time after captaining United in their 4-0 defeat to MK Dons in the Capital One Cup – in which he offered a very shaky performance. Not only is this situation a worry for United fans who may see their club forced into buying talent for the foreseeable future, rather than producing their own, but there is also cause for concern amongst England fans, who have long been able to rely on United to produce a steady stream of international stars.
After such a dismal start to the season following on from the disappointment of the David Moyes era, it was inevitable that Manchester United would spend big in the summer transfer window, but nobody could have predicted it would be this big.
It remains to be seen whether Louis Van Gaal's gamble will pay off but he will know that all eyes are on him to return Champions League football to Old Trafford. Louis Van Gaal may have the temperament and man-management skills to mould his team of international superstars into a Premier League force, but it will surely take time. After promising to give David Moyes the time he needed and then promptly sacking him, it remains to be seen how much slack Van Gaal will be given by the Manchester United board. Those who enjoy a football punt might consider backing him not to last the season, although given the current odds, it seems that bookmakers are waiting to see whether his new-look side gels before making a decision on which way his future will go. He is as low as 12/1 in some places to be the next manager in the Premier League to lose his post, but in others – such as the leading betting exchange Betfair – he is 14/1 to win the LMA Manager of the Year award come the end of the season.
Having invested so heavily, United can't afford to fail – another failure to qualify for the Champions League could prove catastrophic for them, both on the field and off it.